Welcome back to Post-Preview Chats, wherein Derek (DI) and Darla (DSC) will discuss highlights and favorites from publisher preview events to help keep you up on what's new and exciting in the publishing world!
*drool*
DSC: On Friday, May 20th, Derek and I headed downtown to the shiny new HarperCollins HQ where we were wowed by a list of great titles! HarperCollins' previews pull a page from the speed dating handbook; attendees gather at one of five tables, where they are treated to presentations by that table's set of editors and publicists. After about 25 minutes, all the attendees get up and swap tables, and that's how the morning goes! It sets a nice pace, with lots of time for leg-stretching. The featured guest for the day was author/illustrator extraordinaire Chris Raschka (!!!!!), who spoke movingly about his collaboration with Vera B. Williams on their upcoming picture book,
Home at Last
(9/2016).
<3
Home at Last
tells the story of Lester, a young orphan who is finally being adopted by his new parents, Daddy Albert and Daddy Rich. At first Lester deals with nightly bouts of anxiety rooted in the fear that someone will take him away from his happy family in the middle of the night because he's alone in his new bedroom. But Daddy Albert, Daddy Rich, Lester and their dog Wincka find a solution that makes everyone feel safe and happy, not to mention well-rested at last! The book is a true collaboration between Raschka and Williams, who worked on the illustrations together at Vera's beautiful upstate home. Many of the illustrations were pen drawings done by Vera that were then recreated in watercolors by Chris, merging their styles seamlessly. They completed the book in the early fall of 2015, just before Vera, who was fighting cancer, passed. I need to go mop up some tears, so would you like to tell about a happier story, Derek?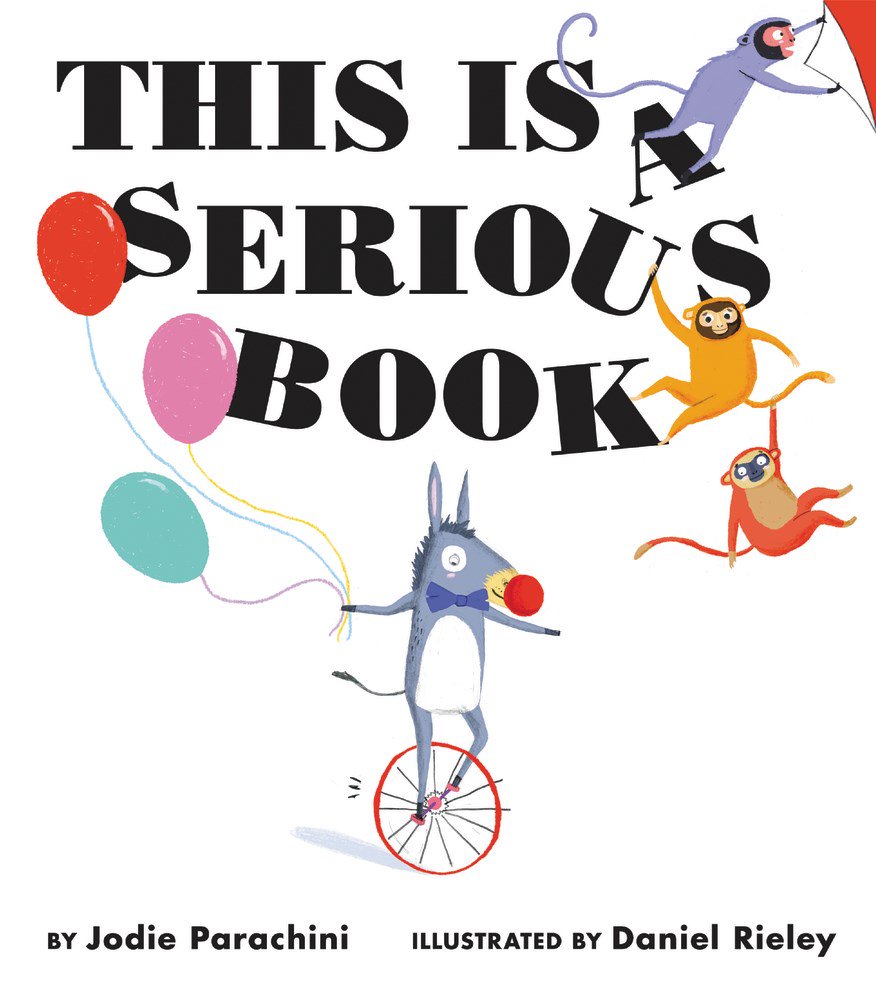 BEWARE THE TOOTING DONKEY
DI: I will absolutely do that! Let's all take a minute to breathe and move on to something a little more serious!
This is a Serious Book
by Jodie Parachini and illustrated by Daniel Rieley (Greenwillow, 10/2016) is supposed to be serious, but with a cast of crazy animal characters it just can't live up to its name. While the group of animals do zanier and zanier things that narrator of the story is letting them know that they need to stop since this is a very serious book. Even though the narrator tries and tries to persuade them they just won't listen. The reader will be delightful by the antics of the animals. I know I may have lost it on a page that reads, "And absolutely no tooting"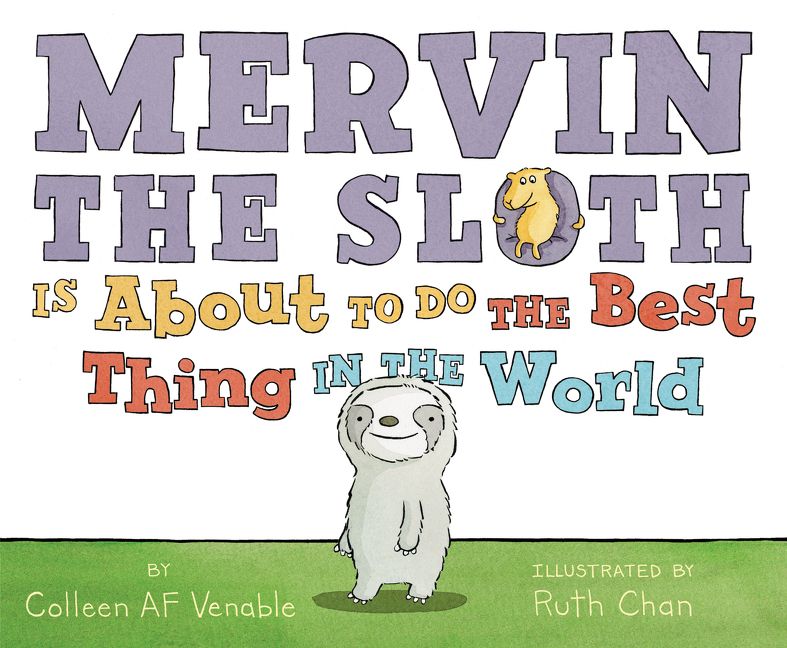 Don't you want to hug the sloth too?
followed by an illustration of a very cheeky donkey letting out well... a toot! I have high brow humor as you can tell. Another delightful and upbeat picture book from Greenwillow is
Mervin the Sloth is About to do the Best Thing in the World
by Colleen AF Venable and illustrated by Ruth Chan
(9/2016). Here a sloth takes center stage and as he starts to move animals gather around to see just what he will do! Page after page turns to see the sloth's arms moving in teeny tiny increments. Most of the animals get bored except one: his best friend red panda! And what is the best thing in the world you might ask? SPOILER ALERT: It's giving your best friend a hug.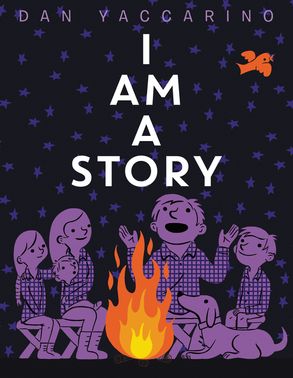 There's that red bird!
DSC: To close out picture books, I also fell in love with Dan Yaccarino's
I Am a Story
(9/2016), which tells the story of how humans have told stories, from cavemen sitting around fires and painting on cave walls, all the way to the internet and eReaders. There's even a public library! The richly pigmented illustrations featuring a diverse array of faces and places will entrance readers young and old alike, and children will have fun trying to find the little red bird hiding in each spread. For the middle grade set, we have two new reads from two beloved authors. Patricia MacLachlan brings us
The Poet's Dog
(9/13/2016), which tells the story of Teddy, an intelligent dog raised by a poet, who can be understood only by poets and children. Teddy will have to use his gifts to help himself and two children he finds survive the winter after his owner goes missing. Can't wait to get my hands on it! We also have a new novel for the tween set by Sharon Creech, called simply
Moo
(8/30/2016). Reena's family has moved to Maine, where despite expectations of beaches and blueberries, she finds herself in an unlikely employment with a neighbor and her gregarious pack of animal friends.
Decadent title +
Gorgeous cover =
YES
DI: Thanks Darla for rounding out picture books and middle grade fiction! I am moving on to two of my favorite YA books from Harper's preview. First up is the second installment of Rae Carson's Gold Seer Trilogy titled
Like a River Glorious
(9/2016). In the first installment readers met Lee who has an amazing sixth sense: she can sense gold in the world around her. The books take place during the U.S. gold rush. Lee's parents are murdered and she decides to head west where her secret talent can be put to good use. By the end of book one Lee has arrived in California where she was trailed by her evil uncle. The book was beautifully written, but I had one complaint: NOT ENOUGH GOLD SENSE! As if she read my mind the editor of the book said that this book has more magic! YES! She even went on to say that the final book in the trilogy has much more because as time progresses her sense becomes more powerful. Closing up my Harper roundup is another YA book with a strong female lead.
Girl Mans Up
by M-E Girard (9/2016) doesn't just blue gender lines - it breaks them. Pen is happy being the kind of girl she is. She loves other girls and wants to dress like a boy, but this does not mean she wants to be a boy. This is not a transgender story, but the story of a lesbian teen dealing having societal norms being forced on her. The debut novel has already received some blurbs of praise from fellow YA writers.
IT'S REALLY REAL!!
DSC: To close things out, I have a YA novel that I'm absolutely buzzing with excitement about, and it's
Goldenhand
(10/1102016) by Garth Nix! This is the newest book in the recently reanimated Old Kingdom trilogy, and continues where
Abhorsen
left off (be still my heart!). This series, which begins with
Sabriel
, was one of the first fantasy series I remember falling madly in love with, and I'm not embarrassed to say I pulled it off the shelf just because the spine art, featuring a little bronze mask painted by The Dillons, looked really cool. When I saw
Goldenhand
on the galley table I seriously considered grabbing a copy and abandoning the whole preview to go read it, but I was good and even made myself finish my other book before starting it. I'm only about a third in, but so far, more of that Garth Nix goodness!
That's all from our HarperCollins day!! If you are interested in any of the titles mentioned, let us know in the comments or shoot us an email and we'll let you know if we have an ARC you could look at. Happy reading!