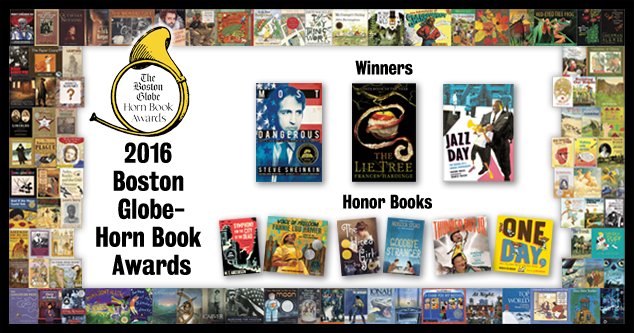 Did you hear? A few days ago, the winners of the 2016 Boston Globe-Horn Book Awards for Excellence in Children's Literature were announced!
You can read
Horn Book's official announcement here
, and you should check out their winner announcement video, which we've included at the end of this post. The video explains the history and process of the award, which was founded jointly by the two publications in 1967:
"For the past 50 years, the awards have recognized books that have become classics in the lives of young readers, from
The Dark is Rising,
to
A Chair For My Mother,
to
Mr. Tiger Goes Wild
. [...] An independent panel of judges has one directive: to seek and reward excellence. They honor books in three categories: picture books, fiction and non fiction. The award year runs from June 1st to May 31st, and all print books published in the United States for young people are eligible. The three judges are appointed by [Horn Book editor in chief Roger Sutton], and must choose one winner and up to two honor books in each category."
Eligible books can be created by authors and illustrators living anywhere in the world, as long as they are published in the US. Fun fact: the unconventional award year dates described above coincide with the publishing year.
This year's winners are:
Non fiction:
Most Dangerous
by Steve Sheinkin
Fiction:
The Lie Tree
by Frances Hardinge
Picture Book:
Jazz Day: The Making of a Famous Photograph
by Roxane Orgill, illustrated by Francis Vallejo