Welcome to a new Project Yawesome feature, Post-Preview Chats! Derek (

DI

) and Darla (DSC) will discuss highlights and favorites from publisher preview events, to help keep you up on what's new and exciting in the publishing world.
The rooms are predictably
pointy on one end - fun!
D
SC: On Thursday, May 19th, Derek and I made our way to the Flatiron building for the Macmillan Fall 2016 preview. Macmillan has a fun setup where they split all the attendees into four groups, and each group heads to a different floor with a conference table setup. We get to sit and snack while the editors filter in and out and show off what's coming up. My room was themed with pink flowers and cupcakes for A Patron Saint for Junior Bridesmaids by Shelley Tougas (Roaring Brook Press, 10/11/16), which was pitched to us as great for the type of young reader who might like "My Big Fat Greek Wedding." What was your room's theme, Derek?
Luckily, no peeing on the cover
DI:

Mini hot air balloons flew across the ceiling of our room (there were also delicious cupcakes)! Our theme followed the new book written by Matthew Olshan and illustrated by Sophie Blackall called A Voyage in the Clouds: The (Mostly) True Story of the First International Flight by Balloon in 1785 (FSG, 10/11/2016). The story is based on a true tale of two men who wanted to fly across the English Channel in a hot air balloon. All does not go as planned when they start to lose altitude and start throwing things overboard including their clothes! The editor made sure to point out in a last ditch effort to save their flight the men also urinated into the water to lessen the weight of the basket. Luckily, it all worked. Blackall brings her wonderful art to the pages of this mostly true story right after her Caldecott win!
Don't mess with this cranky grandma!
DSC: It's a little tough to pick particular favorites out of the multitude of books presented at each preview, but we're going to do our best to pick some we think you should know about! To kick it off, I was excited to see Leave Me Alone! (Roaring Brook Press, 9/13/2016), the first picture book from
Vera Brosgol, the author and illustrator behind graphic novel
Anya's Ghost
. This charming story that begs to be read aloud tells of a grandmother who's sick and tired of knitting in the ear-splitting midst of 30-odd crazy grandkids, and just wants to get away. She ventures farther and farther from home, searching for a little peace and quiet, screaming "LEAVE ME ALONE!" to the bears, mountain goats, and aliens that disturb her along the way. Yes, aliens - she tries to escape to the moon, and when
that
doesn't work, she takes things even farther, galactically speaking. I love the rich colors, cartoon faces, and of course the grandma's stubbornness! Speaking of graphic novels, comics fans will be excited to learn that Ben Hatke is back with a brand new character in
Mighty Jack
(First Second, 9/6/2016). This was described to us as an addictive, modern fairytale that will be the first of a two part series, and has a little something in store for fans of
Zita the Spacegirl
.
...maybe leave Cat alone too?
DI:

I agree that Leave Me Alone! looks incredibly entertaining. After Brosgol's incredible and well
received
Anya's Ghost
it really is so exciting to see her bold art back on the page. I missed her! Another picture book that I just loved is called
Cat Knit
by Jacob Grant (Feiwel & Friends, 10/11/2016). Cat loves Girl and Girl loves Cat, but now there in a new friend in the house - Yarn! Cat soon learns to love Yarn. So bright! So squishy! So playful! Until one day Girl takes Yarn and changes it. Changes it so drastically that Cat no longer loves Yarn. Girl has transformed Yarn into... a sweater for Cat!!! DUN DUN DUNNN! Through some small trials and tribulations Cat learns to love Yarn again until Girl purchases more Yarn which means more trouble for Cat on the final page of the book. Cat has a permanent Grumpy Cat grimace that readers will giggle over especially when wearing the sweater!
Don't you want to hug her?!
DSC:

I can't get Cat's cranky face out of my head - I'm sure all he needs is a little kiss! At CLASC's most recent New Book Seminar, the topic of transitional readers (and the lack thereof) came up - if you were at that meeting, or are one of the librarians hunting for good transitional reads to recommend to the 3rd grade set, you'll be excited to hear about these next two titles. Imprint is kicking off a colorful series with the catchy name Super Happy Party Bears (Imprint, 9/6/2016), in which the technicolor titular bears attempt to cheer up a different curmudgeonly forest dweller in each book! Then, fans of Calpurnia Tate will rejoice to hear that Callie Vee and her brother Travis will star in their very own chapter book series, Calpurnia Tate, Girl Vet (Henry Holt, 10/4/2016). This should be a great pick for young naturalists everywhere. I'm also excited to crack the spine on Gertie's Leap to Greatness (Farrar Straus Giroux, 10/16), by debut author Kate Beasley. I know you're not supposed to judge a book by its cover, but it's really hard not to when it features a spunky, chunky little girl drawn by Jillian Tamaki. Her illustrations also fill the pages of this story, in which Gertie Reece Foy attempts to become the greatest of all fifth graders.
We love this cover!!
DI: TAMAKI!!! Anything Jillian Tamaki gets my attention. Something else that also gets my attention are LGBT themes in YA lit. It is so exciting to see these titles becoming more and more prominent with every passing publishing season. Macmillan was not an exception to this. Jess, Chunk, and the Road Trip to Infinity by Kristin Elizabeth Clark (FSG, 11/8/2016) stars a MTF main character and of course a crazy road trip with her best friend. Author Clark has a transgender child so she writes with experience in her own life. Last Seen Leaving by Caleb Roehrig (Feiwel & Friends, 10/4/2016) is a book they are pitching as a Gone Girl read-a-like for teens. While it doesn't say explicitly that the main character is gay, the plot is described as his girlfriend goes missing and he should now where she is, but in order to find out her secrets he might have to reveal a few of his own (wink, wink). I added the winks for effect! The last book with LGBT themes came from imprint Swoon Reads and is called No Holding Back and is written by Kate Evangelista (due out 10/18/2016). This is a not straight straight-up love story. What I appreciate most about this is that there are two guys on the cover sitting close and holding hands. This is a rare find to see a intimate scene using two models on an LGBT YA book. There are so many straight couple teen kiss covers I think it is about time two guys can be seen holding hands on a teen read! Great job Swoon Reads! I'm stepping off my soap box now... Darla?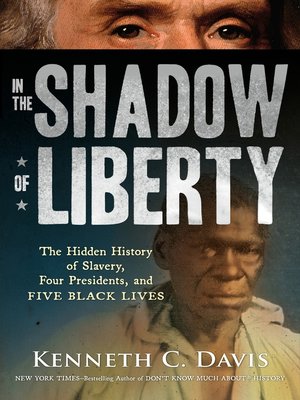 The cover features an actual




photograph of Isaac Granger, who grew


up enslaved to Thomas Jefferson
DSC: You do so well on the Soapbox! But if you insist...to wrap it up, there are some non fiction picks to be excited about! For the younger set, Candace Fleming and Eric Rohmann have worked their magic with Giant Squid (Roaring Brook Press, 9/27/2016), sure to entrance younger readers with its luminous illustrations and lilting prose, along with plenty of back matter for the nerds. History buffs should be interested in another title on a rarely-treated topic: In The Shadow of Liberty: The Hidden History of Slavery, Four Presidents and Five Black Lives by Kenneth C. Davis. This book will feature the stories of five different slaves who were owned by presidents, supported by first-person accounts and documents, and is a must for history buffs as well as your Hamilton fans (Faniltons??). Finally, microbe nerds (that's a thing, right?) will be happy to learn that Invisible Enemies and Invisible Allies, by Jeannette Farrell, are slated for re-release in updated paperback form (FSG, 12/13/2016). They've got catchy new covers and will include information about modern maladies such as ebola, so throw them on your STEM interest lists.
That's all for today! If you are interested in any of the titles mentioned, let us know in the comments or shoot us an email and we'll let you know if we have an ARC you could look at. Happy reading!